This post may contain affiliate links. Please see the disclaimer page for more info.
A LIST OF TOP HOMESCHOOL SUPPLIES FOR KINDERGARTNERS
Having the right supplies for your homeschool can make a world of difference. But, do we need all the fancy stuff?
I've found that simplicity is key. Having too many options is overwhelming for young ones.
I've compiled a list of our Top Homeschool Supplies for Kindergartners. Many of them are common school supplies but they are what we use on a regular basis.
WHEN AND WHERE TO BUY
I try to hit the back-to-school sale in August for common school supplies like pencils and glue. Otherwise, I will replenish our supplies as they get low.
To minimize waste, I don't like to buy in bulk unless I know it is something that we will be using like printing paper.
I've found that Walmart and the Dollar Tree will carry most of these supplies at low prices. Some are not the best quality but for the most part, they work just fine.
Also, check out my Must Buy Dollar Tree Homeschool Supplies post for a list of budget-friendly supplies AND curriculum supplements.
This is not an exhaustive list by any means, but this supplies list will get your homeschool started for kindergartners or even preschoolers.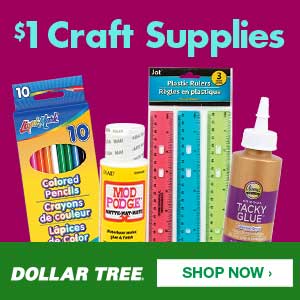 TOP HOMESCHOOL SCHOOL SUPPLIES
WALMART OR DOLLAR TREE
Pencils
Markers
Color pencils
Watercolor paint and paper: Use the watercolor paper instead of regular because they will get soggy.
Tape: Dollar Tree sells two Scotch tapes in a pack for a buck.
Glue sticks: Elmer's are better, I don't like the Dollar Tree's "Jot" (they tend to dry up fast).
Scissors: Rounded ones.
Ruler
Erasers
Construction paper
Various craft supplies (wooden craft sticks, stickers, pipe cleaners, yarn, twine, etc.): I tend to buy these as needed.
Kitchen timer: A buck at Dollar Tree.
AMAZON
I know each child and home is different so our homeschool supplies list will vary.
I would love to hear which school supplies your kindergartner use the most, let me know in the comment section below!