This post may contain affiliate links. Please see the disclaimer page for more info.
DOLLAR TREE SUPPLIES FOR YOUR HOMESCHOOL
If you've read my post on Top Homeschool Supplies for Kindergartners, you probably noticed that I listed quite a few Dollar Tree supplies there.
I LOVE the Dollar Tree, I can stay there for hours (not with the kids though). I mean just by myself. If they are with me, it's gotta be in and out. Ya know what I mean? They start taking things off the shelf and asking to buy this and that. Don't even get me started with the balloons.
Aside from the chaos that may come with shopping at the Dollar Tree with kids, it is still the place to go. Especially, if you are on a budget.
It is the FIRST place I go to for DIY craft supplies for the kids, common supplies like pencils, markers, construction paper, AND even supplements to our homeschool curriculum.
If you are on a budget (like we are), I absolutely think you should consider the Dollar Tree for your homeschool.
Today, I want to share with you Must Buy Dollar Tree Homeschool Supplies I use for my preschooler and kindergartner.
Dollar Tree offers several different workbook options for Reading & Writing. I think these are great when they are just starting to learn to read and trace.
My son started his kindergarten off with these workbooks and he is doing just fantastic. These workbooks are colorful and are a great way for kindergartners to learn sight words and penmanship.
Items to look for:
Manuscript Writing Grades K-2
Blank manuscript writing paper for more practice (if needed)
Reading Readiness Grades K-2
Spelling & phonics Grade 1
Various reading and writing workbooks
These math books are a great for kindergartners. They are colorful and not boring at all. My son loves these and breezed through both of them in 2 months (we do math 3 times a week).
You can also get little cash registers & garage sale stickers for pretend shopping. Clock spinners & sand timers are great to use for explanation at the table.
Counting pom-poms (you can find them in the craft section) or foam cubes are great for preschoolers.
Items to look for:
Disney Time & Money
Numbers (Kindergarten)
Various addition & subtraction workbooks
Pretend cash registers (or you can use real money, which is what I prefer)
Garage sale stickers for pretend shopping
Small pom-poms or foam cubes for counting (preschool)
Clock & numbers spinners
Sand timers
I like to use these Morning Starters or Brain Bites workbooks to help reinforce reading, writing, and math if needed.
I also will bring these on road trips or bust them out at the restaurant while waiting for food. Usually, they don't expect to see these workbooks outside of homeschool so they are surprised and excited when I take them out.
You can find different science workbooks, as well as educational spinners like the solar system one below. The STEM book is probably my son's top pick. It is VERY hands-on. We usually do science twice a week and we allow 2-3 hours since they like to experiment, draw, go outside to find bugs, leaves, etc., and touch & feel.
Items to look for:
Solar system & butterfly spinners
Thermometer
Ocean facts & activity book
Solar system activity book
STEM workbook
Test tubes & large tweezers
Science kits (box says for 8+, use caution. Not the best in my opinion, but good to have on-hand on rainy days).
We use this US map on a regular basis. It's actually a pretty good size map. We have it in our play room and it's a great way to teach map reading and, of course, where each state is located. The U.S. puzzle is just another great way to reinforce where each state is located.
Items to look for:
Map of U.S. (they don't always carry this, grab it if you see it!)
The Dollar Tree carries a great assortment of Bible readers, Bible character activity books, and prayer books that are great for preschoolers and kindergartners.
These are also great for church busy bags!
Items to look for:
Stories of the Bible
Parable of the Bible
Heroes of the Bible
Jonah, Jesus, David, Noah, Joseph, Moses sticker books (my daughter's favs.)
Bible Readers
The dollar store carries a variety of preschool activity & sticker books. This is a great and inexpensive way to introduce our young ones to different shapes, numbers, colors, animal names, vocabulary, etc.
My daughter loves the sticker books, she can sit and work on these for 30 minutes or so while I am instructing my son.
Items to look for:
"My First" series (colors, farm animals, words, etc.)
Picture Dictionary
First Steps Sticker & Activity Books
Various preschool workbooks
My kids LOVE pretend play, especially my 3-year-old. She likes to pretend to be a chef and fire fighter.
The dollar store carries various different pretend play toys. Things like dress up, pretend cooking, dolls and dollhouses. They are not the best quality in my opinion. I prefer Melissa & Doug when it comes to stuff like this.
BUT, your preschoolers probably wouldn't care if their pretend toys are from the dollar store or if it's Melissa & Doug's. Another option is to check out the local thrift store's kitchen section for inexpensive utensils, pots & pans, oven mitts.
The dollar store also have play dough, clay, silly putty, little animals that grow when you put them in water. These are all great for sensory play and fine motor skills.
These educational spinners are a fun way to talk about the solar system, the world, and the cycle of a butterfly with kindergartners and preschoolers. They love spinning these and reading the facts in the boxes.
Educational posters are great to hang on the wall for kids who are more visual. The colors are vibrant and the posters are pretty big once you unfold them from the packaging!
I mean, you could really go crazy here. But, for the sake of our budget, let's not.
Items I would buy:
Construction paper
Finger Paint Paper Pad
Hot glue sticks
Popsicle sticks
Little beads, googly eyes, pom poms
Pipe cleaners
Baker's twine
Pre-made wood crafts (airplanes, cars)
Finger paint pots
Markers
Clothespins
Typically, I keep basic craft supplies that we use on a regular basis on hand. Things like:
Popsicle sticks
Paper plates
Glue
Paint
Crayons
Markers
Tape
Ruler
Pencils
Drawing paper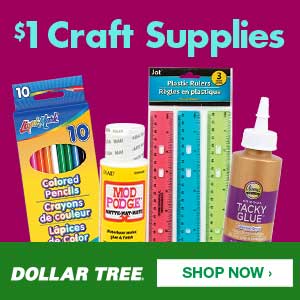 For preschoolers and kindergartners, I find that the dollar store will carry most craft supplies needed. Wal-Mart is second in line if I can't find what I need at the Dollar Tree.
To be honest, we've never tried these recorders or mini guitars yet. If you have, let me know in the comment section below how they are.
I probably wouldn't use them in place of "real" instruments but you could use them as props to music storybooks or if you are trying to introduce preschoolers and kindergartners to different sounds, these could work and are budget friendly.
Items to look for:
Mini guitars
Recorders
Harmonicas
Whistles
Music Triangles
You can usually find many different flash cards depending on which Dollar Tree you go to. These flash cards are great to use to help reinforce vocabulary, math, colors & shapes, money, time, geography, sight words, etc.
If you want to decorate your homeschool room or space, look no further. Go to the Dollar Tree, at a buck each you can get a lot to spruce up your homeschool space. Some elementary school teachers buy supplies from their Teacher's Corner's section.
Items to look for:
Alphabet wall borders
Bulletin board borders
Various die cuts
Reward charts
Stickers
Pens/notebooks
Stapler/hole puncher
My son hates, absolutely hates road trips. He has said to us on multiple occasions that the "max" he can do is 30 minutes. We've tried audiobooks, music CDs, lap activities, but alas he is just not a trooper when it comes to long car rides.
So, I was very excited when I saw these road trip games at the dollar store. They don't last hours, but when push comes to shove, I whip out one of these and it gives me 20-30 minutes of sanity.
I usually see them during the holidays and summer time. Grab them if you see them, these don't stay on the shelves long (at least not at my Dollar Tree).
Items to look for:
Various Travel Games
Various Activity Books
WRAPPING IT UP!
Alright guys, I am wrapping it up right here.
As you can see, there is a lot you can get from the Dollar Tree for your homeschool needs.
If your kids are starting preschool or kindergarten soon, I would definitely consider these items to either help you get started with homeschool, supplement your current homeschool curriculum, or use them to fill in during holidays and summer vacation.
Please let me know in the comment section below if you have personally used any of these items with your kiddos and how you liked (or disliked) them!
Until next time!